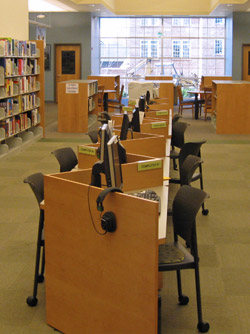 The Lewisville Library provides eight public-access computers. They access the Internet and Microsoft Office® applications: Excel, Powerpoint, and Word.
Two Early Literacy Stations are available to children in the children's area. These computers feature educational games for preschoolers through third grade.
A Digitization Station provides digital conversion equipment for use by our customers. A special State Library grant funded this additional computer workstation. As a result, the efforts for Digital Forsyth will continue to add historical treasures to your family and our community.
Forsyth County Public Library provides computer services and wireless internet access at all locations for any public use. Review the Internet Use Agreement & Computer Rules.
Specialized workstations and software are available at some locations: Assistive Technology, nonprofit and grant research, digital conversion, genealogy assistance, and much more. Computers can be reserved at Central Library for research. Let the Library fill many of your computing needs.