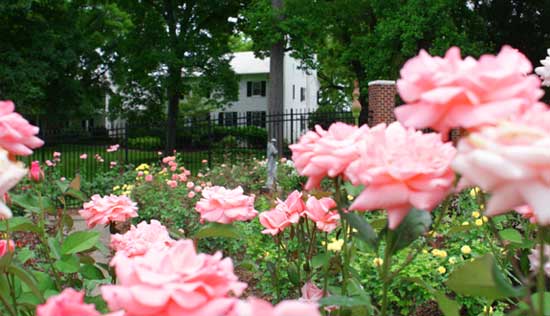 Sold in 1921 to William Neal Reynolds, brother of tobacco entrepreneur R. J. Reynolds the Tanglewood tract was enlarged to over 1,100 acres and the Manor House expanded to 28 rooms. Although may be obvious that Mr. Will was a horse lover it was Mr. Will's wife, Kate who was a horticultural enthusiast.
Kate began the extensive native and ornamental plantings at Tanglewood and employed German master gardener, Mr. Frank Lustig, who continued her plans and his life's work. He contributed the Rose Garden on the Manor House lawn, the Arboretum behind the house, and the nearby Fragrance Garden to the estate. For 60 years, even after the death of his employers, and their gift of the estate, Lustig poured his talents into Tanglewood. He is buried in the graveyard at Tanglewood next to the historic church.
In 1951, the Reynolds willed the Tanglewood property to the citizens of Forsyth County to share as a public recreational park. The couple had no children. Nestled among the grounds of the Manor House the Tanglewood Park Rose Garden offers an indulgence of the senses to its guests. Experience the sweet fragrance, vivid colors and sheer breathtaking beauty of the garden. The garden contains varieties of Hybrid Tea, Floribunda, Grandiflora and Shrub roses.
Today the gardens and woodlands are carefully taken care of by a staff of experienced horticulturists who continue the vision of Miss Kate and Mr. Lustig. Catch a glimpse of butterflies dancing among the collection of native wildflower borders. As you explore the garden and its surroundings perhaps you may find the inspiration to pen a poem as Kate did.
"... 'tis Tanglewood,
The seat of creeks and mighty trees,
Of fertile soil and balmy breeze
Of friends…good friends
Who love you well
And more ... much more than I can tell,
'Twould fill a page, had I a book,
To tell the joys of Tanglewood!"
- Kate B. Reynolds