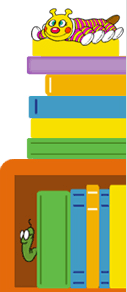 Welcome to the Children's Page!
Children's librarians want to help you find what you need.
Do you want to . . .
learn about a Venus fly trap?
find joke books?
get an idea for a science project?
find a cookbook?
read about Abraham Lincoln or Michael Jordan?
read an award-winning story, or a poem like Where the Sidewalk Ends?
We can help you make the connection. Don't be shy, ask us the next time you visit your library, or call a Youth Services at 703-3041!
Kids' Books

Picture Books

Tween Reads