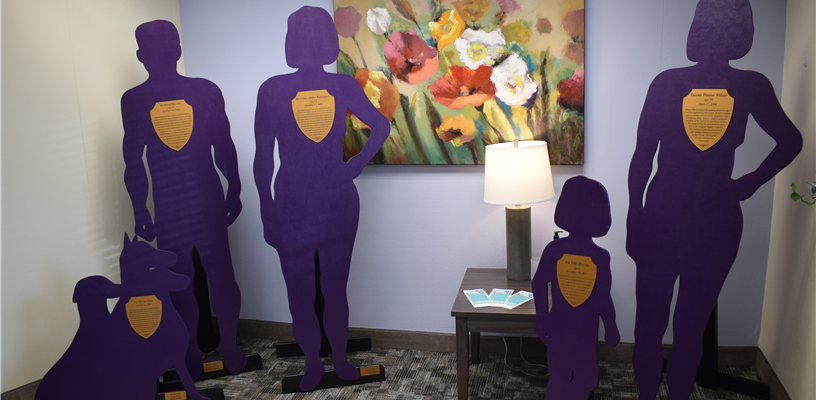 By Dewanna Hamlin
Posted Wednesday, October 18, 2023
Bridges to Hope hosting Silent Witness for Domestic Violence Month
Bridges to Hope Family Justice Center is privately hosting a part of the Silent Witness Exhibit from the Winston-Salem Police Department onsite during Domestic Violence Awareness Month.

The Silent Witness Initiative began in 1990 and remains as a powerful way to honor those whose lives were lost in acts of domestic violence worldwide. Exhibits include free standing, life-sized silhouettes with a shield bearing the name of the deceased with a brief description of the incident that led to their death. The overall purpose is to commemorate the lives of victims and educate everyone about the seriousness of domestic violence and the effects of loss on family members, friends, co-workers, neighborhoods, and communities.

The WSPD began their exhibit in 2015 and includes 20 silhouettes of women, men, children, and canines.

Programs sponsoring exhibits work with families and research around specific criteria on the language of the shield to ensure information is accurate regarding domestic violence homicide and conviction or pending conviction of the alleged perpetrator.

Additional information regarding The Silent Witness Initiative can be found at www.silentwitness.net.

Bridges to Hope Family Justice Center of Forsyth County provides services and resources in one location, at no cost, for individuals and families impacted by domestic violence sexual assault, child maltreatment, elder abuse, and human trafficking. Contact the Center at (336) 776-3255. No appointment is needed. The Center is located at 725 N. Highland Avenue, Annex 1, in Winston-Salem with service hours from 8:30 am-4:30 pm.