More Books We Like
Need a New Author?
Get printable versions of these lists by clicking on the list name.
Holiday Books for Kids
Published 11/28/2018 by Jenny Boneno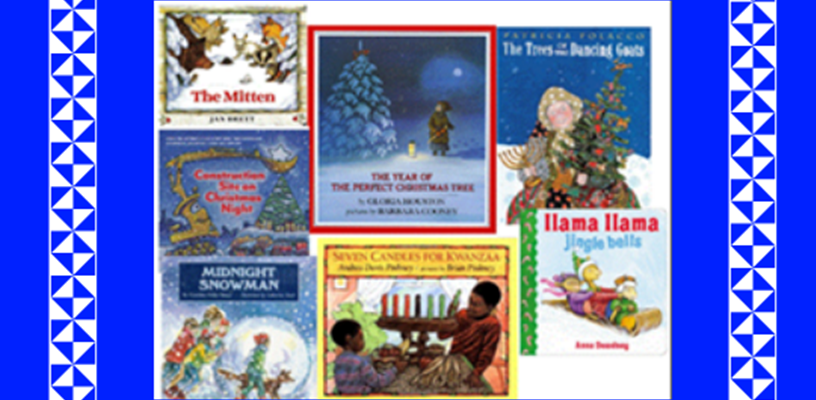 Looking for books to share with the kids for the upcoming holidays? Here are a few gems that I have shared for storytime with library kids as well as my own children. They make great gifts as well. Happy Holidays, everyone!
"Midnight Snowman" by Carol Feller Bauer Neighborhood kids get a special treat when it snows. "It rains in our town. It never snows." The snow starts to fall at night and all of the neighborhood families join in the fun, determined to make the largest snowman ever.
"Llama, Llama Jingle Bells" by Anna Dewdney Little llama and his friends give gifts, sing songs and decorate cookies. It's a very merry holiday indeed!
"The Mitten" by Jan Brett This classic tale about animals that squeeze into a mitten is a favorite. The beautiful illustrations with tiny details will have children looking at each page with wonder.
"The Year of the Perfect Christmas Tree: An Appalachian Story" by Gloria Houston This heartwarming story that takes place in North Carolina is a favorite we read every year. Ruthie and her mother search for the perfect tree while Papa has left their home to go to war.
"The Trees of the Dancing Goats" by Patricia Polacco A family celebrating Hanukkah helps their sick neighbors decorate their home for Christmas. Beautiful illustrations paired with a wonderful story of families from different cultures and backgrounds caring for each other, make this a holiday favorite.
"Seven Candles for Kwanzaa" by Andrea Davis Pinkney Although Kwanzaa commemorates an ancient African harvest ritual, it is a relatively new holiday in North America. "Seven Candles for Kwanzaa" comfortably explains the origins, language, and daily themes of this warm and festive seven-day holiday.
"The Snowy Day" by Ezra Jack Keats As we anticipate wintry weather, there is no better story to share than "The Snowy Day" by Ezra Jack Keats. This quiet and engaging book has been a national favorite for more than fifty years.
"The Construction Site on Christmas Night" by Sherri Duskey Rinker The trucks are building a special gift for Christmas, but soon discover a surprise. There is a gift waiting for each of them, too. Excavator, Bulldozer, Crane, Dump Truck, and Cement Mixer receive their gifts as each finishes their part of this big, important job and rolls off to a sweet and sleepy goodnight.