By Todd Luck
Posted Wednesday, September 18, 2019
Big Pour festival brings craft beverages to Tanglewood Park
North Carolina's Big Pour drew many attendees to Tanglewood Park on Saturday for the first annual craft beverage festival.
The Big Pour featured a variety of craft beers, coffees, teas and honey as well as arts and crafts. There were also musical performances, children's activities and demonstrations at the Big Pour. Craft beverage vendors came from all over to participate.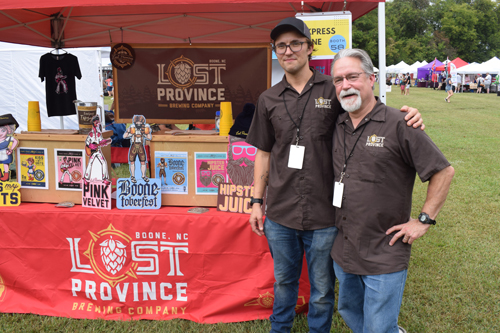 Andy Mason brought beer from his Lost Province Brewing Company to the festival. Lost Province is a full service restaurant and brewery in historic downtown Boone that specializes in wood fired pizzas and craft beer that is authentic and innovative. Mason said the Big Pour was an excellent chance to expose people to his brewery.
"We're hoping this will be the start of a really great festival and we're delighted to be here," he said.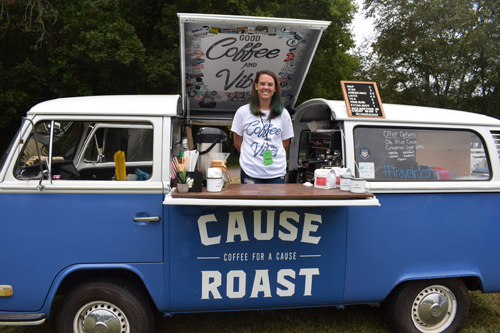 Hannah Leigh could be seen at the festival popping out of the top of a 1972 Volkswagen Bus serving coffee for Cause Roast. Founded by Greg Pittman in 2015, Cause Roast sales coffee online and through its new coffee bus. It partners with World Hope International, so that for every one bag of coffee sold, four people get clean water. Leigh said she thought the Big Pour was a wonderful event.
"I hope it happens next year and I hope it keeps getting bigger," she said.
Chad Morris was at the Chad's Chai booth. His chai ("chai" is Hindi for "tea") is sold locally in coffee shops and restaurants, including popular downtown attractions like Black Mountain Chocolate and Finnigan's Wake, which was the first business to sell his tea. He said he was glad to be at the Big Pour with his fellow brewers.
"I think it's really fun celebrating all good beverages," said Morris.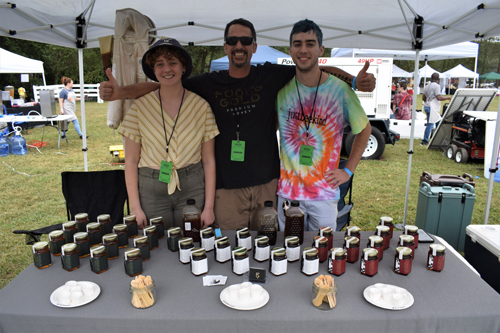 Josh Pietrafeso was there with his Fool's Gold Honey, which included regular honey straight from the hive, along with honey infused with espresso and bourbon. Fool's Gold Honey is sold at a variety of retail locations, including Twin City Hive, where customers can bring their own jars to get honey on tap. Pietrafeso said Big Pour was a good opportunity for the local beekeeping community to come out so people sample and buy their honey.
"It gives exposure to us small start-ups," he said.
Organizer Kristin Schollander said the first Big Pour drew 1,684 attendees and raised $2,300 for local non-profits. She expects an even bigger and better festival next year.
"Everyone seems to really enjoy the family friendly community vibe that our event had," she said. "Many were already saying they were ready for next year's event!"