By Todd Luck
Posted Friday, June 24, 2022
Forsyth County employees raise more than $13,000 for Arts Council
Forsyth County employees raised $13,035.73 for the Arts Council of Winston-Salem & Forsyth County during a workplace campaign in May.

This year's campaign, which was themed "And Still We Rise," exceeded its $12,000 goal. County employees contributed through pledging money, which often involved them setting an amount per paycheck to go to the non-profit. Departments also held a variety of fundraisers including bake sales, raffles, art activities, putt-putt, a kick ball tournament, an art auction and selling other food items like donuts, waffles, juice smoothies, popcorn and coffee.

The lunchtime finale for the campaign was held on June 1 in downtown Bailey Park with a vendor market, food trucks and talent show featuring performances by both city and county employees. Rodney Archie took third place for singing "Don't Stop Believing," Gale Ketteler got second place for her opera performance, and Public Health's Alexis Lambert won first place with her Unheard Mime Ministry performance. Arts Council CEO Chase Law was the MC of the talent show and lent her vocals to an impromptu half-time show with a band comprised of County Manager Dudley Watts, Emergency Services Director Darren Ziglar and Ned Erickson.

"Thanks to (Campaign Chairs) Linda Gaskins, Bryn Lenkiatis, Ashley Pendley and the amazing campaign committee for a memorable campaign loaded with energy," said Watts. "It did what it was intended to do - bring County employees together to celebrate our community of arts and innovation."

Campaign organizers said they were grateful to county employees for their participation, as well as the many sponsors who donated prizes for the campaign.

"I am so proud that we had an opportunity to witness our county family truly demonstrate the true meaning of our campaign theme 'And Still WE Rise'," said Gaskins. "County employees did a wonderful job of rising up and showed up to support the arts in a big way!"

The Arts Council is the biggest driver of cultural investment in Forsyth County. The Arts Council provides operational support to a broad range of partner arts organizations that provide 800,000 experiences a year, including music, visual art, theater, festivals, film and independent bookstores. Forsyth County is one of many workplace campaigns that help fund the Arts Council.

"We are so grateful for the generous support that Forsyth County Government, its staff, and board of commissioners continue to show Arts Council year after year," said Law. "The funds raised in this annual campaign make a huge impact on our arts and cultural sector and the entire community. This year's theme, 'And Still We Rise,' is timely as we continue to emerge from the effects of the last 2 years and bring the residents of Forsyth County together."

The Arts Council is one of only two organizations the county participates in fundraising campaigns for, the other being the United Way of Forsyth County.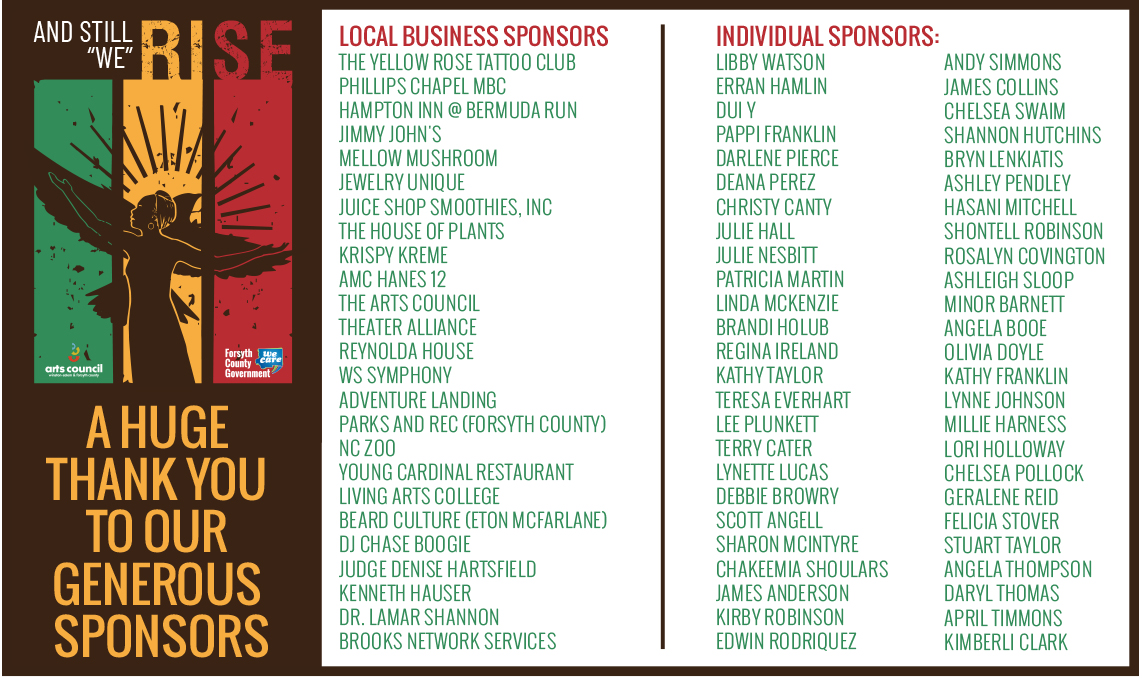 Talent Show Third Place - Rodney Archie
Talent Show Second Place - Gale Ketteler
Talent Show First Place - Unheard Mime Ministry (Alexis Lambert)