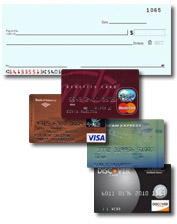 Welcome to our Tax Bill Online Services System
The bill search provides users the opportunity to view real estate, individual and personal property tax bills that are paid or unpaid.
On delinquent bills, you may project the amount of interest by looking at the bill detail and entering the date your payment may be received.
Please contact us at 336-703-2300 to speak with a representative concerning any questions regarding your bill.
You may search by:
Bill Number - The first 10 digits only
PIN or Parcel Identification Number ** This is the best option to search by to ensure you see all bills associated with a property including sanitation liens.
Property Owner Name
Sanitation Lien Number
Details About Paying a Bill Online
Payments made via check, debit card or credit card are handled by a third party vendor, Forte Payment Systems, on their secure servers.

Please note there will be a convenience fee to pay online.
North Carolina law does not have a provision to allow local governments to absorb the cost of this service; therefore, you will be charged a convenience fee. The fee will vary based on the amount of the tax due and the form of payment used. For additional information about fees associated with this payment method, please read the message from the Tax Assessor/Collector and view the fee chart.
You will be notified of the convenience fee prior to completing the payment. After you have received the final calculations, you will have the option to cancel the process.
It may take up to 3 days for your online payment to be completely processed.
Taxes paid on or after January 6 following the due date are subject to interest charges. January interest is 2% thereafter interest accrues at the rate of 3/4% on the first of every month.
Notice
Forsyth County makes every effort to have current tax information on its site. Tax records are subject to change daily. Forsyth County makes no warranties, expressed or implied, concerning the accuracy, completeness, reliability, or suitability of this data.
We make every effort to have the site available from 8:00 am - 5:00 pm, Monday thru Friday, excluding holidays. We cannot guarantee uninterrupted access. We do not have the resources to provide 24/7 support for the site. If a problem occurs at night or on the weekend, it will not be detected until normal business hours. If during normal business hours you need assistance, please call the Customer Care Center at 336-703-2300.
Payment of Taxes on Registered Motor Vehicles
In 2005, the North Carolina General Assembly ratified House Bill 1779 to create a combined motor vehicle registration renewal and property tax collection system. The legislation places the responsibility for motor vehicle property tax collection for the state's 100 counties with the Division of Motor Vehicles (DMV). The new combined registration fee and tax collection has become North Carolina's new "Tag & Tax System." The only time vehicle taxes are handled by Forsyth County is when a vehicle is unregistered or has a gap in registration.
If you want to renew your registration, here is a link to the NC DMV.
If you would like to see what you paid in taxes on a past renewal, this information also is available online at My DMV.
To use this site you will need:
NC Driver's License or NC Identification Card Number.
Last 4 Digits of your Social Security Number, or I-94 (Arrival/Departure US Customs Form) or Alien Registration Number.
Date of Birth.
Once logged in, you will see "Correspondence" on the right middle third of the window. Under "Correspondence" you will be able to select the year for Vehicle Property Tax Fee paid. Select the year desired and all vehicles paid for in that year will display with the total taxes paid for each vehicle in that calendar year.
Link to view what you paid in Property tax for registered vehicle »