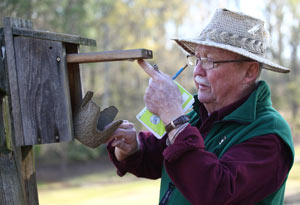 Charles (Bill) Abbey moved to Clemmons in 1980. Attracted to Tanglewood Park by its diverse walking opportunities he soon discovered an existing, though unkempt, bluebird trail on the Park. Interested, he inquired about the trail and was soon invited to, "Have a go at restoring it to its intended purpose."
In the thirty years that have passed, the trail has been reestablished using currently approved nestboxes and mounting guidelines. It has grown from very few productive boxes to a hundred or more and has now settled into the distinctly more productive forties.
Abbey states that "Over the years as a N.C. Bluebird Society volunteer, I have become more attuned to what bluebirds are seeking for habitat and location. I allow two years for a box to attract and produce the bird. If a box doesn't produce well, it's gone! I move it to another spot."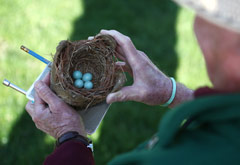 Abbey's tactic seems to have worked quite well. See the Ten-Year Production Summary. Bluebird nesting begins in late March and continues through early August. At the end of each nesting season, Abbey compiles his collected nesting data and forwards the research to Cornell University where it is used to help evaluate the fitness of the species which has been under severe stress for much of the past forty years.